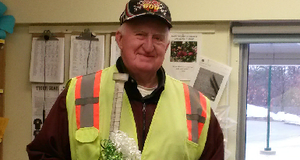 Fred Quackenbush, a school crossing guard for the past 15 years, is hanging up his "Stop" paddle.  He worked in the position for BOCES for 5 years, and has spent the last 10 working at entrances to Hudson Falls School buildings.
Students in the Intermediate School wrote notes of appreciation and well wishes to Fred, as he retires "for real" and prepares to enjoy the years ahead with his wife.
Quackenbush has a history of being involved with sports in his earlier years, most notably as an avid hockey fan.  He was recently inducted into the Adirondack Hockey Hall of Fame due to his thirty years of dynamic support of the game. He was also a member of the Adirondack Hockey Booster Club, and moved on to become a board member. Given his love of hockey, one gift was particularly well-received.  One of the Intermediate School teachers, a hockey coach himself,  arranged for his classroom to give Quackenbush a very well-used hockey stick, completely covered with signatures from his many well-wishers.
Good luck and best wishes Fred, for a happy and fulfilling retirement!!