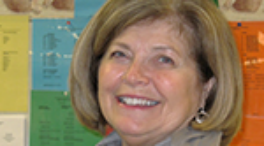 Mary Murray's warm, friendly smile has been a constant in the Hudson Falls Central School District for three decades.
"I never counted the years," says Murray, who's been a familiar presence outside the high school principal's office since 1995. "I had to turn in a retirement letter. I got a letter back from the board and it said, 'You have 30 years of service,' and I said, 'Oh my gosh! It's really been 30 years!' I never imagined myself as doing that."
Murray is a Queensbury native, but spent the last 44 years living and working in the Hudson Falls community. She and husband John, a 1970 graduate of Hudson Falls, raised their three children, Mark, Chad and Leigh here. "My kids all went to school here and they're all very successful," she said proudly. Looking back even further, Murray's mom was a 1936 graduate.
"I've always said that our school district is the gem of our community," Murray says. "I've lived here for 44 years. Without a good school system, your village is lacking. We have a good school district."
In 1987, Murray began working for HFCSD. "I've done a lot of different things," she recalls of her time working here. She started out as a substitute in the school cafeteria. "I scrubbed pizza pans," she says with a chuckle.
From there, Murray spent time as a cafeteria monitor, study hall monitor, as a substitute secretary and a secretary in maintenance before landing her full-time secretarial position.
Now, after 30 years of service, Murray has decided to retire in March. "I'm excited, but I'm nervous," she says. "There's a lot I'm going to miss. It's bittersweet."
When asked what she would miss most about her job, she was quick to answer: "The kids, without a doubt," she says with a beaming smile. "The kids make my job."
She also praised her co-workers and the administrators she has worked with. "This district is my home away from home. I've made some really good friends."
Murray is looking forward to spending more time with her family. She plans to visit her daughter and family in Ireland and her two grandsons on Long Island, and log plenty of time on the golf course.
Students, faculty and staff should still expect to see Murray around. She says she will be at graduation, something she rarely misses.
"And I told [Mr. Bennefield] the day after I retire, I'll go down and get fingerprinted so I can legally sub."