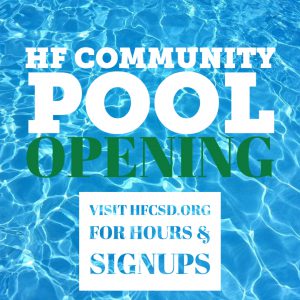 The HFCSD Recreation Community Pool is reopening this summer! We will be starting to accept phone reservations for Hudson Falls School District residents. Swimming begins on Tuesday, July 21st.
Please call 518-361-0251 to schedule your family's time on Monday, July 20th from 11 am-4 pm for Tuesday, July 21st. Reservations will be made only one day in advance. Any changes or cancellations will be posted on our website and posted with a sign at the pool.
Please read the following policies/rules that have been put in place to keep all of us safe and healthy.
The HFCSD Community Pool is open for Hudson Falls school district residents only.
Programs may be adjusted to follow guidelines as laid out by NYSDOH and CDC.
Programs may be adjusted after registration opens to follow future regulations and guidance for the Hudson Falls Central School District.
There will be no walk-ups!
Please feel free to reserve one of the 2-time slots.

12:00pm-2:30pm Free Swim (Arrival time is 12-12:30pm doors will be closed at 12:30pm)
Closed from 2:30pm-3:30pm for cleaning;
3:30pm-6pm FreeSwim (Arrival time is 3:30pm-4:00pm doors will be closed at 4pm)

As you arrive for your reserved swim time we ask that you remain in your vehicle until it is time for your screening. Please call 518-361-0251 to be screened. Once you exit your vehicle please maintain social distancing and wear a mask.
Parents, please pre-screen your child at home – temperature taking- to establish a baseline – this will help eliminate surprises. Upon arrival nursing staff will ask the parent/guardian screening questions related to Covid-19 and check temperatures.
Participants will also be required to wear a face mask when not in the water.
Participants if you exit the pool at any time there will be no re-entries.
All swimmers under 18 years of age need to be accompanied by a parent/guardian to have screenings and consents signed.
If at any time there are Bodily Fluids in the pool it will be immediately closed.
We will close immediately if the weather becomes inclement due to lightning/thunder.
Dates and times may vary or be subject to change.