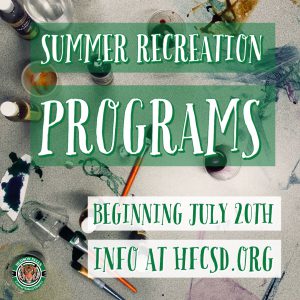 HFCSD Recreation is happy to announce our camps are starting the week of July 20th, 2020!
Families will be receiving communication in the next week as to the session and time of your child's enrollment in the following programs:
Arts & Crafts @ Kingsbury Firehouse
Junior Golf Camp @ Kingsbury National
Dates and times of HFCSD Recreation Department camps may be subject to change.
Programs may be adjusted to follow guidelines as laid out by NYSDOH and CDC.
Programs may be adjusted after registration opens to follow future regulations and guidance for the Hudson Falls Central School District.
For HFCSD Recreation Jr Golf Camp if it is raining there will be NO golf camp that day and there are no makeup dates!
As you arrive for each camp, we ask that you remain in your vehicle until it is time for your screening. Once you exit your vehicle please maintain social distancing and wear a mask.