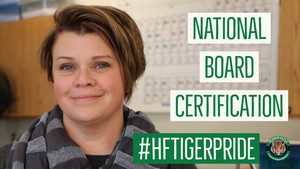 Hudson Falls High School Science teacher Jody Suprenant is already a New York State Master Teacher. Now she has earned another accolade. She recently completed the National Board Certification Process.
"National Board Certification is the gold standard of the teaching profession," said Hudson Falls High School Science Teacher Jody Suprenant.  "I believe that if I am to ask the best from my students, I should be willing to give my best as an educator. The National Board Process allowed my students to see me as a learner and understand that learning is a lifelong process."
Suprenant said she followed The National Board Five Core Propositions and Standards to earn the certification. That involved taking several exams, building out her teaching portfolio, and video-taping several of her lessons.
"It can sound overwhelming but it is definitely worth it," said Suprenant. "Especially when you consider the benefits to students."
Those benefits, according to Suprenant, include being able to see her practice in a whole new way. "There is a strong connection between the content, process, assessments, and the student," said Suprenant. "I came to see my classroom as a community, part of a larger ecosystem, and acquired a more holistic view of education. 
And this isn't the end of the road for Suprenant. She's currently training as a National Board Facilitator to help other teachers, and she's going through the process to apply for the Academy of Master Teachers.