This week area schools have been celebrating their 100 days of school milestones, but did you know that February 25 was the 1,000 day of school for Hudson Falls fifth-graders?
Here's the math: Kindergarten through grade four for 180 days x 5 years = 900 days + 100 days of grade 5 so far = 1,000 days!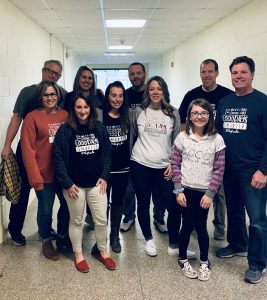 To commemorate 1,000 days of learning, Hudson Falls fifth-grade teachers wore matching shirts and led their students in activities aimed at giving back.
The fifth-graders set collection goals for two causes —  1,000 canned goods, to be donated to the Open Door Mission; and 1,000 dimes for the South High Marathon Dance, in honor of former Hudson Falls high school teacher Jane Pratt.
By Tuesday, students had exceeded their goal of collecting 1,000 dimes but plan to keep collections open through the end of the week.
Students are still accepting canned good donations through Friday, Feb. 28 to try and reach their goal. Donations can be dropped off to the Intermediate School in teacher Jocelyn Lawrence's name. To track the students' total, a giant poster is displayed in the Intermediate School's main hallway.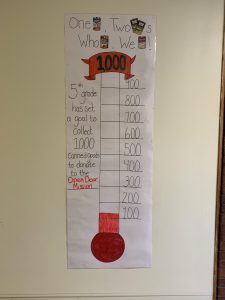 Fifth-grader Faith Bennefield shared that, "helping 1,000 people makes you feel 1,000 times happier!"
The fifth-graders are also in the process of creating a bulletin board with 1,000 memories from kindergarten to fifth grade to commemorate their time in the district.
Way to go, fifth-graders!
---
Behind the scenes: Fifth-graders working to determine the height of 1,000 dimes.