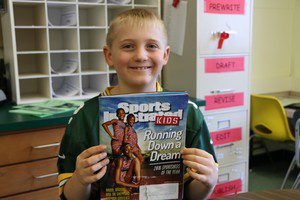 Benjamin Andrejkovics was skimming through an issue of Sports Illustrated Kids last summer when he spotted an article promoting a drawing contest.
"I decided I could take my chance," said Andrejkovics, now a fourth-grader at Hudson Falls Primary School. "I didn't think I was going to make it because my sister is really the artist of the family — not really me."
But win or lose, Andrejkovics decided right then he would spend his summer months coloring, channeling his hometown pride.
"Draw a picture of what the olympics would be like if it was held in your hometown," Andrejkovics recalled of the assignment. "That's why [the contest] is called Hometown Pride."
He didn't pick up the colored pencils right away. Andrejkovics really thought about his design. He brainstormed and researched.
First, he drew a tiger.
"I did that because this is the first year that I'm on the Hudson Falls team and I wanted to show that I was proud of it by putting the Tiger part in," he beamed.
Then using a book at his grandparent's house, he learned facts about New York state.
"That's where I found the beaver and the eastern bluebird. Then the tiger part I just came up with from school and my team. The eagle part, that's America's bird, so that's why I chose that."
A perfect blend of research, talent and pride transformed his blank canvas into his masterpiece.
"I drew it all by myself! I wanted to challenge myself by doing that."
Andrejkovics stamped the envelope and dropped his drawing in the mail, officially submitting his work to the magazine. He admits he was nervous. He previously submitted work to another contest and wasn't chosen as a winner.
Weeks later, the results were in.
"My mom tried to surprise me. She said, 'We need to talk when you get home,'" he recalled. "I thought I was in trouble! Then when we got home she said, "Remember that drawing that you did back in August? Well, it made it!'"
Andrejkovics still beams with pride when he tells that part of his journey. When asked how he felt learning his submission made the cut, he smiled and said, "So proud and excited!"
He also shared some words of advice for others who might pursue such ambitious goals: "Keep trying. Don't give up. You never know."
Ben's artwork was printed in the December 2016 issue of the magazine. He says he will definitely continue to draw.