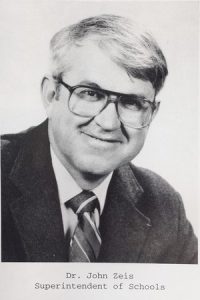 Hudson Falls Central School District honors the memory of former Superintendent Dr. John G. Zeis.
According to his obituary, Dr. Zeis passed away March 4, 2018 while ice fishing on the Great Sacandaga Lake.
Dr. Zeis was the Superintendent of Hudson Falls Schools for over 20 years, retiring in 2000.
During the 1990's, he led the district through a transition from neighborhood elementary schools to the current grade-level model.
"We will feel Dr. Zeis' legacy for years to come," said current Superintendent Linda Goewey. "His leadership, guidance, and warm personality helped lead the district through a big transition. Many people in our district will miss him."
Dr. Zeis was 78 years old.