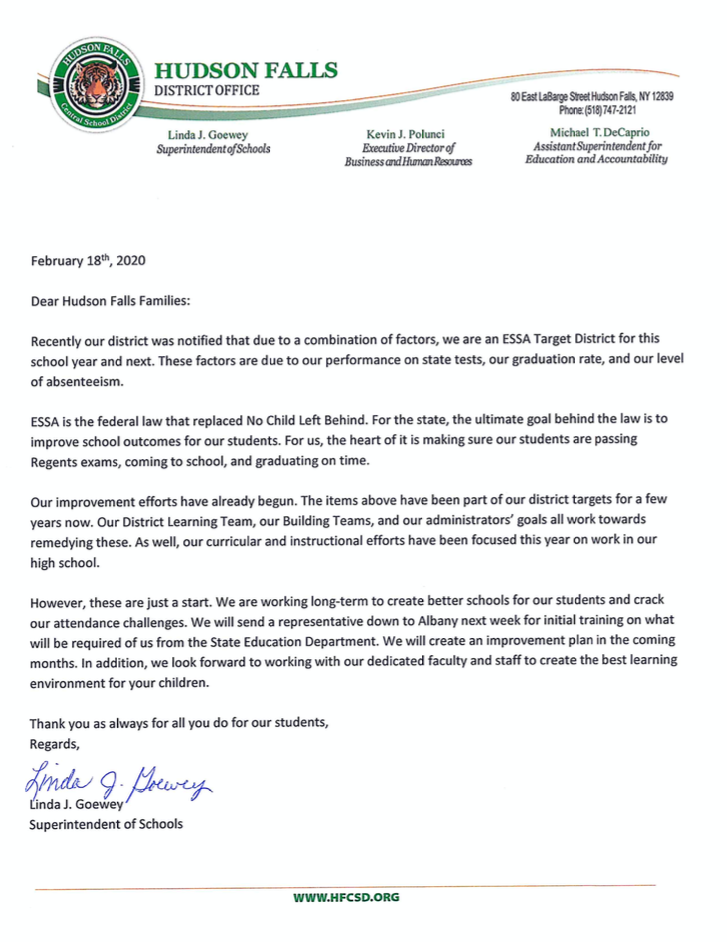 February 18th, 2020
Dear Hudson Falls Families:
Recently our district was notified that due to a combination of factors, we are an ESSA Target District for this school year and next. These factors are due to our performance on state tests, our graduation rate, and our level of absenteeism.
ESSA is the federal law that replaced No Child Left Behind. For the state, the ultimate goal behind the law is to improve school outcomes for our students. For us, the heart of it is making sure our students are passing Regents exams, coming to school, and graduating on time.
Our improvement efforts have already begun. The items above have been part of our district targets for a few years now. Our District Learning Team, our Building Teams, and our administrators' goals all work towards remedying these. As well, our curricular and instructional efforts have been focused this year on work in our high school.
However, these are just a start. We are working long-term to create better schools for our students and crack our attendance challenges. We'll send a representative down to Albany next week for initial training on what will be required of us from the State Education Department. We will craft an improvement plan in the coming months. Also, we look forward to working with our dedicated faculty and staff to create the best learning environment for your children.
Thank you as always for all you do for our students,
Regards,
Linda J. Goewey
Superintendent of Schools