Last week Hudson Falls middle-schoolers kicked off their College and Career Café series with a visit from Capital Region BOCES Public Information Specialist Aubree Kammler. Mrs. Kammler talked about her role as a communications specialist for the district and what she studied in high school and college to prepare her for the position. Social media as a marketing and communication tool was a hot topic during each session!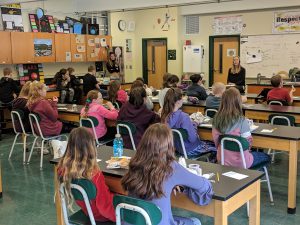 The College and Career Café is a part of the middle school counseling program and focuses on college and career readiness goals. Middle school counselors Tricia Chizek and James Shaw agree that it's a worthwhile and informal way for middle school students to receive practical information and ask questions about readiness, so that they can begin to start thinking about their futures.
The College and Career Café sessions will continue on every Wednesday throughout the month of February.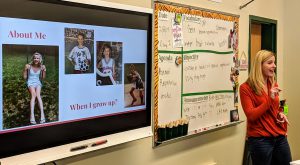 Erin Fish from AIPS Media was the College and Career Cafe's second presenter, and Ms. Fish discussed her career in sports reporting and journalism, and how she built upon her skills as a soccer player and graduate student of Syracuse University.
Hudson Falls Middle School is excited to welcome Associate Director of Admissions at Siena College,  Jen Sloan, to their third and final session. Ms. Sloan is a graduate of Siena College, where she also played Division I softball.