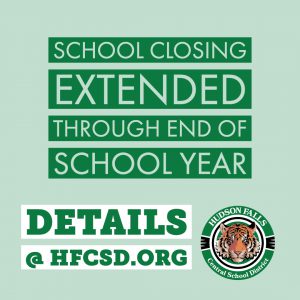 Dear Hudson Falls Families,
I want to thank you for your continued patience and support as we work through these challenging times, and update you on a few things that are changing for our district.
School Closed for 2019-2020 School Year
As you may have seen on the news already, Governor Andrew Cuomo has ordered that all New York schools remain closed for the rest of this school year. We are heartbroken that we won't get to see your faces in person until the fall, but we understand that this is a necessary decision for all of our health and safety. We will continue to support our students with learning resources through this extended closing.
Academic Programs During Summer
While we will be closed during the school year, we are making plans to offer academic and enrichment activities during the summer months. We don't know what these programs will look like yet, but we will update you here and on our social media outlets. 
Meal Services Continue 
To date, we have served over 21,000 meals to our school community. During the extended closing, Nutrition Services and Transportation staff will continue that commitment to serve. Our breakfast/lunch grab and go service will be available Monday, Wednesday Friday at the same scheduled times. The service on Monday and Wednesday will include two days' worth of meals, Friday will contain three. If you can not make it to the Primary School, please contact our school nutrition services department at (518) 681-4118 to arrange delivery.
Again, thank you for your continued support during these uncertain times. Please know you have HFCSD's commitment to continue to serve and support your children and our families in every way we can.
Sincerely,
Linda J. Goewey
Superintendent of Schools