February 
Guidance Department coordinated gift bags handed out in homeroom to all seniors
March 
Jostens was in school March 8-10 to hand out orders. If you did not stop down and pick your items up, please stop by the main office. You can also contact Jostens directly to arrange pickup.
Senior T-Shirts:  HFTA paid for all seniors to receive a free shirt.  Also, the first 100 students receive an HF mask.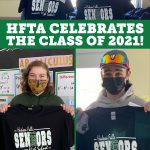 April
Seniors: The time has come to buy tickets for prom.  Tickets will be on sale during lunch and in-room A8 the week we return from spring break. You can purchase a ticket from April 12 – April 16th for $45, checks can be made out to the Class of 2021.  Remote students will need to come in or have another student purchase the ticket for them.  Make sure you have chosen your table mates for seating.
Congratulations signs coming to a lawn near you beginning April 23rd!
Friday, April 23rd – National Honor Society Induction Rehearsal
Sunday, April 25th – National Honor Society Induction @ 11 A.M.
May
Friday, May 14th – Honor graduates ceremony
Prom – Tentative date: May 14th
This year's prom will be held at the Courtyard by Marriott Lake George.
Everyone heading to prom must take a COVID rapid test before they will be allowed to board transportation to the dance.

Free testing will occur at HFHS
Wednesday, May 26th – Science Symposium Presentation
Senior Day of Service – May 28th
June
Senior Banners in HF Village – A parent group is collecting donations for the two-sided banners with a senior's photo on each one.
Tuesday, June 8th – Senior Yearbook Distribution
Friday, June 11th – Senior Trip:  Lake George battlegrounds, rented both pavilions
Monday, June 21st – Last day of classes
Elementary Schools Tour in Cap and Gown TBA
Senior Video Release TBA 
Graduation: Saturday, June 26th
ONE ceremony will be held outside on the HS football field
Tentative time: 9:30 am
Each graduate will receive three tickets for spectators
Ceremonies will be live-streamed
Ceremony location & times could change as the district follows local, NYS & federal COVID-19 guidelines.