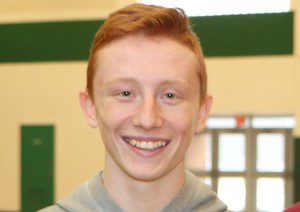 The suspense in the gymnasium was building.
"I was at 99 wins, Hudson Falls High School senior Connor Paige said, reflecting back on the day his life changed. "I knew my final match that day was going to be for my 100th win. I knew I needed to win it there in finals to make it cool."
Paige and his opponent took to the mat. All eyes were on Paige. Cheering onlookers waved signs.
The wrestling match began. Move after move, both wrestlers gave all they had. Then came the pin. Paige emerged on top.
"A lot of screaming — that's all I could hear," he said with a smile.
He had done it. One hundred career wins.
"Everyone was just so excited. I was excited," Paige said.
Wrestling coach Michael Prendergast said, "The first couple guys I witnessed reach 100 wins – most of their wins came from the previous coach. It was nice to see Connor do it under my coaching. That's the really special part for me."
Connor's parents were in the crowd to witness the big moment. He had hoped they captured it on camera for him. He laughed and said, "I pointed up at them in the crowd after I won and they said, "Oh, we didn't have our camera out!"
Paige began his wrestling career as a 7th grader. He wrestled for the modified team for two seasons before he jumped to varsity as a freshman.
Paige's name will be added a list of others who have left behind their wrestling legacy.
"It's really cool," he said. "I'll be put on the banner in the wrestling room for all of the other kids moving up to see."
Paige said he is happy to be able to set an example for other wrestlers. "Put in the extra work in the offseason," he said. "Definitely get into the gym. The hard work will all pay off."