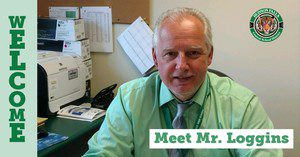 Meet Robert Loggins — the interim assistant principal at the high school. He joins the district with 34 years experience in education. He was previously House Principal/Assistant Principal at Maple Avenue Middle School in Saratoga and has worked in other area districts like Scotia-Glenville and Mohonasen.
Mr. Loggins is a father and a grandfather, and in his free time he enjoys spending time with his family, boating, camping, bowling and cooking. He also gives back to the community as an adaptive ski instructor at Double H Ranch and is a Safety and Gear (SAG) vehicle for the annual Team Billy Ride and Walk for [Brain Tumor] Research.
Please join us in welcoming Mr. Loggins to HFCSD! Students, if you see him in the hallway, give him a high five!