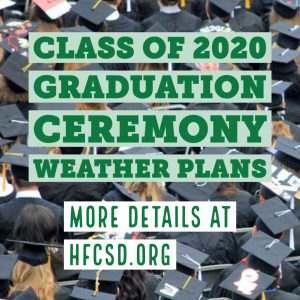 4PM 6/26 UPDATE: The 9am and 11am ceremonies are still scheduled to start on time.  Please be at your session 30 minutes prior to the start.  At 10:30 am we will have an update on the 1pm ceremony.  Please continue to check our website and social media sites for updates on graduation. 
Seniors, Parents, and Guests,
We are getting close to graduation day and I look forward to seeing all of you on Saturday! Although the next several days look beautiful, the weekend looks like there may be multiple chances for rain and storms. I want to assure you that we will have an in-person graduation ceremony. Our hope is that we complete all three ceremonies by Sunday, June 28th, but if necessary, we will reschedule for a later date. We will inform you of the rescheduling of sessions via an autodialer message. In addition, we will post the information on the District website, Twitter, and Facebook accounts, as well as channels 6, 10, and 13.
In the event of inclement weather, by 4 p.m. on Friday, June 26, we will inform you if the morning sessions are canceled for Saturday, June 27th. Our intent is to reschedule them for that afternoon at 3 pm, 5 pm or 7 pm. We will inform you of which ceremony you will be attending by session.
If we have to cancel the afternoon sessions on Saturday, June 27th we will inform you by 10 am on Saturday. Our intent is to reschedule the sessions for Sunday, June 28th at 9 am, 11 am, 1 pm, 3 pm, 5 pm or 7 pm. We will inform you of which ceremony you will be attending by session.
Reminders for students: Students, please arrive at school 30 minutes before the graduation ceremony. Please report directly to the sidewalk on the East Labarge entrance where you will be greeted by Dr. Bishop, your school counselor, and advisors and follow their instructions.
Reminders for parents/guests: Please make sure you have your mask on once you park and leave your car and practice social distancing until you are seated. Seating will be pre-marked for proper social-distancing. Please have your tickets out and ready as you enter the football field.
Remember, all attendees must wear a mask everywhere on campus if you are not seated at the football field.
Live stream links: Each of the three ceremonies will be live-streamed. The links will also be posted on our district website, as well as our YouTube channel: https://www.youtube.com/c/HudsonFallsSchoolDistrict. We encourage you to share them with family and friends who are unable to attend the ceremony.
Thank you for your support and understanding as we continue to make adjustments to make this graduation as memorable and special for everyone involved. Cross your fingers for good weather this weekend.
Regards,
Mr. Bennefield
High School Principal
Click to access Graduation-Inclement-Weather-.pdf