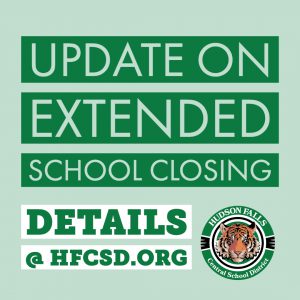 Dear Families,
Earlier today, Governor Cuomo extended our closure and announced that schools will be closed through Friday, May 15. We will continue to instruct, support and ensure our students and families are provided meals through this time. 
We have two more updates to share with you:
Thoughtexchange open through Monday, April 20
We want to hear from you! How can we best support each other as a community during this extended school closing?
This week, we launched our latest Thoughtexchange, an online forum to ask questions and leave comments, and rate other thoughts and questions about COVID-19 and how it relates to our school community.
The exchange is open through Monday evening. If you haven't already participated, please do so… and if you have, please continue to visit the exchange and rate the thoughts of your community members. We will use the results of this exchange to refine our communications to ensure we're providing you with information that is the most helpful during this uncertain time. 
Community resources
One of the themes in our current exchange has asked for the district to share information on community agency support and help. We invite all our community members to visit this site if they are in need of further support: https://sites.google.com/hfcsd.org/hudsonfallshealthwellnessresou/community-resources
I know the question remains if we will be returning to school this year. The decision to return to school will be made by the governor's office. We will continue to follow federal, state and county public health guidelines relating to the pandemic. We will continue to share updates with our community as they become available. As we close in on week five, I just want to say again how proud I am of our school community for coming together and working through this uncertain time. 
Sincerely,
Linda J. Goewey
Superintendent of Schools