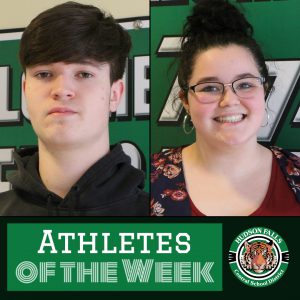 This week we honor two students for their hard work on and off the court. First up is sophomore Cheerleading Captain Riley Mahar.
Cheerleading Coach Trishia Ten Eyck said Mahar works hard each and every practice and brings in so much outside dance and tumbling experience to her work.
"She also spends an immense amount of time working on developing and choreographing halftime routines," said Coach Ten Eyck.  "She extremely coachable and strives to do her best every day."
Outside of cheer, the honor-roll student tutors her teammates and participates in Big Brothers Big Sisters, as well as Upward Bound.
Next up is junior Jonathan Beagle. Head coach Greg Smith said the forward helped lead the Tigers to wins over Amsterdam, Scotia and was a big contributor to a close one-point overtime loss at Broadalbin.
"Jonathan was a monster in those three games," said Coach Smith. "He put up over 20 points in each game, along with 14, 13, and 8 rebounds."
Congratulations to both of this week's honorees!