This week we honor an eighth-grader bringing home a victory for the varsity squad and a sophomore driving for victory at the Foothills Council Tournament.
First up is Mia Nassivera. She is an 8th-grader on the varsity swimming and diving team. In her first meet with the squad, she placed first in diving!
Coach Joe Hart commended Mia on her victory, saying she is an incredibly hard worker in the pool and out. We look forward to much more from this young varsity athlete!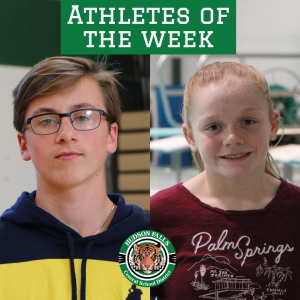 Next is Ben Swartz. the sophomore recently competed in the Foothills Council Golf Tournament along with the rest of the varsity team. Ben led the team to a second-place finish and led all golfers with a tournament-low score of 1-over-par 72! 
Head Golf Coach O.J. Lescault said "His commitment to working hard on all facets of the game has made him one of the best high school golfers in Section Two."
Ben's score has earned him a place at the upcoming sectional tournament.
Congrats to both of this week's honorees!