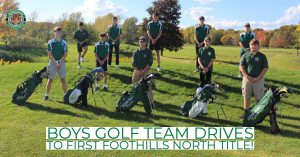 The Hudson Falls boys golf team are regular season and foothills north tournament champions for the first time ever!
The boys notched a record of seven wins and one loss in the regular season en route to the crown.
in the foothills north tournament, Ben Swartz, Eric Purdy, Dom Doyle, and Noah Tyler combined to shoot 325.  Ben claimed top honors for the day with the best individual score of 73 on the Kingsbury National course.
In addition, seniors Ben Swartz and Eric Purdy both nabbed first-team all foothills honors for the year.
Congratulations to this year's team!