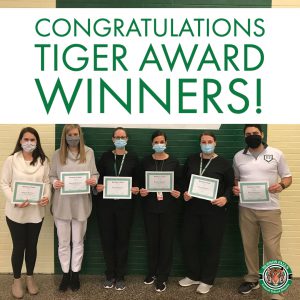 Hudson Falls Middle School honors faculty & staff members who make a big difference in and out of the classroom. The Tiger Awards started as an idea to recognize members of our school community who enrich our school in a variety of ways. The faculty and staff who have nominated our recipients were asked to identify individuals who exemplify one or more of the following traits:
Personal growth
School service
Community service
Sports
Honor and valor
Extracurricular activities
The Tiger Awards seek to highlight members in our school community who have been able to demonstrate exceptional skills beyond the four walls of their classroom, offices, practice spaces, and hallways.
Our Tigers make their presence known through their talent, skill, commitment to our faculty, staff, and students, and through their passion for their work.
Congratulations to our first recipients:
Erin Esposito
Amy Porter
Kari Peters
Jodie Boucher
Jamie Zeno
Thomas Maldonado