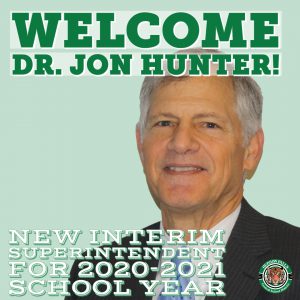 August 3, 2020
Dear Hudson Falls Students and Parents,
Today is my first day as Interim Superintendent of the Hudson Falls School District.  I am excited about the 2020-21 school year and joining the outstanding administrators, teachers, and staff of Hudson Falls.  I greatly appreciate the confidence and support I have already received from the Board of Education and the school community
No change is easy.  We will build on the traditions of the past and employ the best instructional practices.   Of course, our transition is complicated by COVID.  At all times our focus will be on the safety needs of students, faculty, and staff.  We will create strong and flexible structures for instructional and personal needs. For the past few weeks, teams of administrators and teachers have been researching plans for reopening school with the goal of bringing as many students as possible back SAFELY.
This is a huge challenge.  We are considering ideas for transportation, student meals, building cleaning, and instruction.  At the request of the State, we are drafting a plan that addresses three scenarios – full reopening, remote learning, and a blended approach of both. We will make a decision about how Hudson Falls will move forward as soon as we receive the Executive Order from the Governor about school opening.  We know that is important to you and your family. 
During my transition to Hudson Falls, I will focus on our core mission and strengths of the District.   Next, creating relationships with students, faculty, staff, and community is essential.  I will also be committed to enhancing student success in the classroom and in clubs, the arts, and athletics.
I have learned during my 13 years as a High School Principal and as a Superintendent in two Districts that I do not have all the answers to all the problems.  But, what you can expect from me is that I will have high expectations for our District, our students, faculty and staff, and myself.
Again, I look forward to working with the students, faculty, the Board of Education, and you. Please do not hesitate to call or email me with any questions or concerns.  Together, we make Hudson Falls #HFTigerStrong.
Sincerely,
Jon Hunter