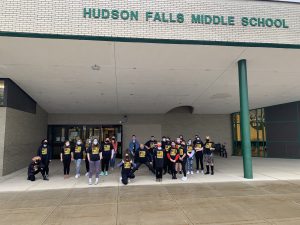 Hudson Falls Middle School was 1 of the 208 schools across New York and New Jersey that have been designated as No Place for Hate for 2020-2021!
No Place for Hate was designed by the ADL (Anti-Defamation League). The ADL is a proven leader in "anti-bias education that instructs future generations to accept diversity and differences".
Hudson Falls Middle School demonstrates this commitment by creating a biased and bully-free, inclusive learning environment for students. To receive this accreditation, all Hudson Falls Middle School students signed the Resolution of Respect to challenge bullying, speak out against discrimination and promote intergroup harmony. HFMS also completed three school-wide activities throughout the school year to meet the No Place For Hate Guidelines.