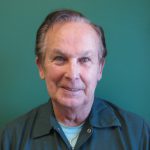 The Hudson Falls Maintenance Department announces the retirement of one of the district's longest-serving employees. Don DuPrey retired on December 1 after 55 years of service.
Duprey was hired as a cleaner in the early 1960s, and over the years advanced to become head building custodian. DuPrey transferred into the Transportation Department as a bus mechanic, and with hard work eventually became the Supervisor of Transportation.
After a brief departure from the District due to illness, DuPrey returned to the Maintenance Department. 
"[Don] was a respected member of our district giving 100% every day with a positive attitude and a smile on his face. We all wish him the best in a well-deserved retirement and thank him for a lifetime of dedicated service," said Superintendent of Schools Dan Ward.