Three Hudson Falls CSD educators were recently earned the TCT Federal Credit Union and Adirondack Broadcasting Teacher of the Week honors.
According to TCT, the award goes to local educators and school employees for their outstanding efforts each week.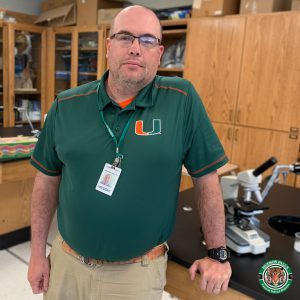 For April 5th, the award went to Mr. James Delancey, Advanced Biology Teacher at the High School.
According to his nomination: "Both in and out of the classroom, Mr. Delancey shows compassion, patience and is constantly putting the needs of his students before his own. Once you step into his classroom, immediately he makes students feel at ease to be there…knowing it's a safe place where they can learn and laugh every day. For Mr. Delancey's high school seniors, he is constantly teaching them life lessons, telling funny stories about his life, and never fails to have every one of his students leaving the class with a smile on their face. Thanks again to Mr. James Delancey at the Hudson Falls High School."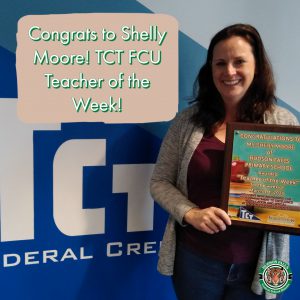 On March 1, the credit union honored Ms. Shelly Moore, Special Education Teacher at the Primary School. According to her nomination:
"Ms. Moore's classroom is called the soar classroom, where her students with special needs can soar to new heights. Ms. Moore teaches her students knowing the strengths and weaknesses of each individual student and brings out the best in all of them. She pushes her students out of their comfort zone and they gain many new skills because of it. Her students and their parents would like to thank Shelly Moore at the Hudson Falls Primary School for all that she does."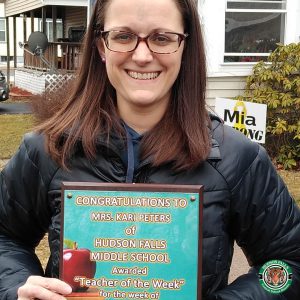 On January 4, TCT & Adirondack Broadcasting honored  Mrs. Kari Peters, School Nurse at the Middle School. According to her nomination:
"Mrs. Peters has been instrumental in helping the students with care, compassion, and comfort. She has gone above and beyond to help families that have been affected by being quarantined. Mrs. Peters' has done personal errands for families and called hundreds of students to check on them daily. Mrs. Peters' caring nature is hard to find. Her school spirit is infectious and she is a positive influence and inspiration to the students and their families. Congratulations to Kari Peters for a job well done as a school nurse at the Hudson Falls Middle School!"
Our congratulations to all three on a well-deserved honor!