Hudson Falls high school helped share Tiger Pride across the globe by helping bring a bit of home to an alumnus serving our country.
Seargent Michael Walkup is a 2006 graduate and is serving in the US Army. He is currently deployed to Iraq.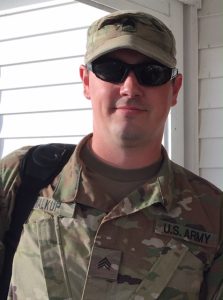 Recently his family reached out to the school as they were preparing a care package to send to him.
"When we were contacted by Sgt. Walkup's family, I knew we had to help," said Athletic Secretary Kathy Dudley. "I was overwhelmed by the response from every corner of our school!"
Dudley and others worked to fill a large box with memories of Hudson Falls for Sgt. Walkup. That included a uniform and ball for the former soccer and track athlete, as well as candy from the nursing staff, and other Hudson Falls-themed items from the student council and music department.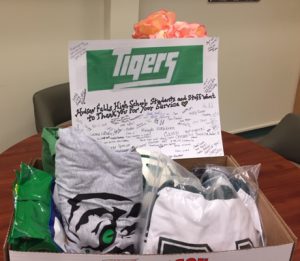 Finally, over 100 students and staff signed a card full of their best wishes for Sgt. Walkup.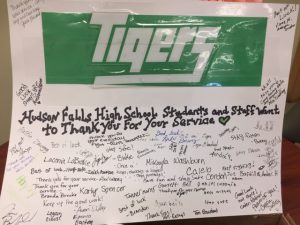 In the past week, the students received a lengthy thank you card back from Sgt. Walkup. In it, he thanked students for their efforts and positive vibes!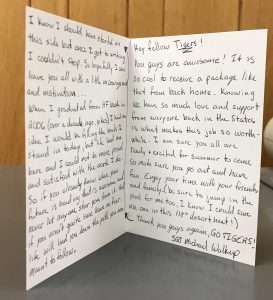 "I am so proud of the way our students and staff came together to help out," said Superintendent Linda Goewey. "It goes to show that our tiger pride does not stop when you leave our campus. We are thankful for Sgt. Walkup's service, and wish him a safe return!"