In this year's Washington/Warren County Mock Trial Tournament, the Hudson Falls team finished the regular season undefeated with a 3-0 record.
Besides winning the trials, there were numerous individual accolades along the way. In each of the three trials for Hudson Falls, judges awarded three different members of the team the honor of "Best Witness." Those teammates include Sophomore Diamond Warney, Sophomore Jewel Ingraham, and Senior Michael Bonomo.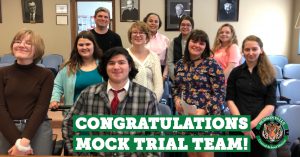 As for "Best Attorney," Junior Caroline Martindale won the award three weeks in a row. Congratulations to the entire team of Michael Bonomo, Caroline Martindale, Paris Hernandez, Ora Plude, Jewel Ingraham, Natasha Ruffing, Alexis Parker, Rachel Talmadge, and Diamond Warney!
Thanks also to Mr. Roger Wickes for his help as the attorney advisor for the team.
They move on to the semi-final round at the Warren County Courthouse on Tuesday, March 26, at 4:30 PM.