Visit us at The Fair
The launch of the agriculture program at the High School has blossomed under the watchful eye of Maggie Hogan. In December we ran a feature about the program, how it was born and how it positively impacts our students and community. 
This past June, Miss Hogan attended the New York Association of Agricultural Educators conference located at Camp Oswegatchie, which is New York State's FFA camp in Croghan, NY. At this conference Hudson Falls CSD was officially awarded with our FFA chapter and charter.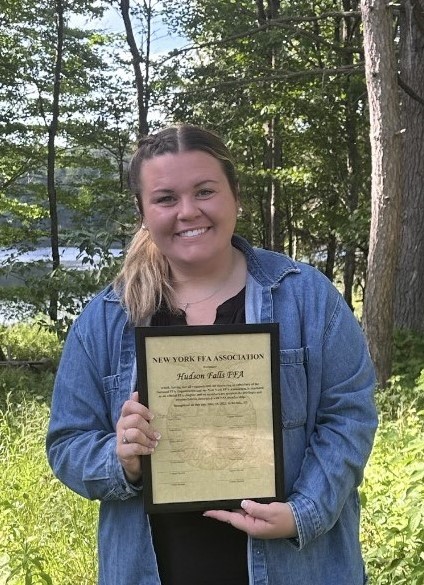 For students interested in leadership and agriculture, there is an extracurricular organization called FFA. The National FFA Organization is the group's formal name. Future Farmers of America is indicated by the initials "FFA". FFA is a well known organization run by students that is committed to helping students advance both personally and professionally. This is achieved through a variety of national events, initiatives, and competitions. FFA is a vibrant student organization that uses agricultural education to transform lives and prepare members for outstanding leadership, personal development, and career success. Through practical experiences, FFA members' potential is developed and their talents are discovered, providing them with the skills they need to succeed in the real world. Members include top professionals in many different job categories, including future farmers, chemists, veterinarians, government officials, business owners, bankers, and teachers. 
The heart of the National FFA Organization is at the local chapter level. FFA chapters may be chartered in any public school with an agricultural education program. Leadership is provided by student officers who are elected each year by the chapter's members, and by the agriculture teacher who serves as the advisor for the chapter.
Miss Hogan and Hudson Falls agriculture students will be at the Washington County Fair on Sunday, August 27 from 2:00 p.m. to 10:00 p.m. supporting the local FFA. Visit the FFA booth/barn during that time and show support for our emerging agricultural program and congratulate Miss Hogan on the FFA Charter!