Get the Hudson Falls School District Mobile App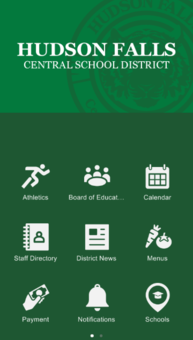 In order to reach parents, students, and our community members faster, Hudson Falls CSD has a free smartphone app available for iOS and Android devices.
Add academic, athletic and extra-curricular events to the calendar on your personal mobile device directly from the calendar section on the app.
Check out the latest district-wide and school news all in one place!
Select yes when you download the app to receive the latest push notifications from the district and your school.

Customize the App for Your Child's School
After you install the app, you can customize it to only receive news and information for your child's school. When you open the app, you will see this homepage: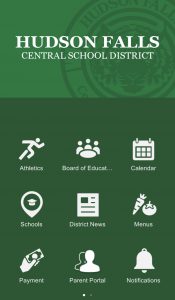 Navigate to the second page & tap on Settings. Tap "select schools" and you will see this screen: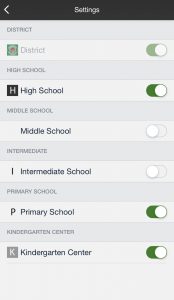 Tap the sliders next to each school you would like to receive information about. They will turn green when selected.
Explore the App
The following features can be found by selecting the applicable icon on the district app main menu. After selecting most features, you can return to the main menu screen by tapping the down arrow symbol at the top of a screen or by using the back button on your device.
Athletics: Find all our team events, and download them to your device's calendar.
Board of Education: Access information about our board members, as well as meeting minutes and more.
Calendar: Access district and school events information. If you tap on an individual event, you will also have an option to download the event information to your device calendar.
Schools: Visit the schools section for quick access to your school's phone number, website information, and staff directory. Click to call or visit the website. Fast and easy!
District News: Find district and school news stories.
Menus: Find our school lunch menus for the current month.
Payment: Links to your child's Titan account to add additional funds.
Parent Portal: Opens the Parent Portal website to access everything you can on a desktop, including attendance, disciple, and report cards.
Notifications:Tap here for all the push notifications we've sent to your school building.
Settings: Change which school you are receiving information for.
Staff Directory: Searchable contact information database for all our district employees.
Social Media: Easy access to our Facebook, Twitter, Instagram & ThoughtExchange pages.