Hudson Falls High School science teacher Tom Vartuli has recently become the district's newest New York State Master Teacher.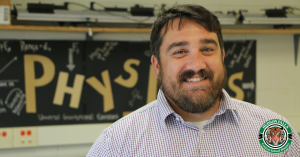 Master Teachers are K-12 Science, Technology, Engineering and Math (STEM) educators who are dedicated to professional growth within their field and classrooms. Master Teachers collaborate with STEM educators and pre-service teachers with the goal of strengthening STEM education.
"Being a Master Teacher will allow me to collaborate with science teachers across New York," said Vartuli. "They will help expand my knowledge of my content area, pedagogical approach as well as finding unique and productive ways to reach all students. I am looking forward to engaging in high-level discussions and problem-solving opportunities for best practices."
This achievement is the conclusion of a months-long process for Vartuli. He took a PRAXIS exam, gathered a written portfolio and recommendations, as well as participated in a personal interview.
"We want our teachers to model life-long learning in their classrooms," said Hudson Falls Superintendent Linda Goewey. "So we are very proud and supportive of Tom's journey in the Master Teacher program. We encourage all our staff members to hone their skills each and every year."
"Those that have chosen to complete the rigorous Master Teacher program really are some of the best teachers I've ever worked with," said Assistant Superintendent for Education and Accountability Michael DeCapiro. "They are self-motivated, still learning, and incredibly smart."
Vartuli joins colleagues Jody Suprenant, Rob Livingston, and Katie Miller, who have all completed the Master Teacher process. Vartuli said their dedication to the process and their students helped inspire him to join the program.