We have dubbed it AT-AT: Attend Today, Achieve Tomorrow. But it is more than a slogan, it's our commitment to and partnership with students and families to ensure academic and personal success. We cannot say it enough … missing two or more days of classes per month can severely impact achievement. The number sounds small, but the negative impact is clear. Addressing chronic absenteeism is a priority. As is celebrating the times we see students making every effort to go to school.
Celebrating Perfect Attendance: HFHS Students Recognized During Breakfast Event  
As many of you know, we launched our "Attend Today, Achieve Tomorrow" attendance campaign nearly a year ago, in March 2022.
As part of our efforts to draw attention to the importance of regular and consistent attendance, we started honoring our high school students with perfect attendance; and after the second quarter we have 14 students across grades 9-12 who have attended school each day of scheduled classes during the current school year.
Please congratulate: Abigail, Colton, Laura, Ethan, Elizabeth, Christopher, Caitlyn, Kenadie, Iqra, Thomas, Santino, Alexander, Mackenzie, and Talen.
My congratulations to these students, as well as others who though may have missed 100 percent are still well above attending more than 90 percent of the time. It is vital that our students are here. Once they are in the building they will have every opportunity given to them to be successful and to pursue their goals.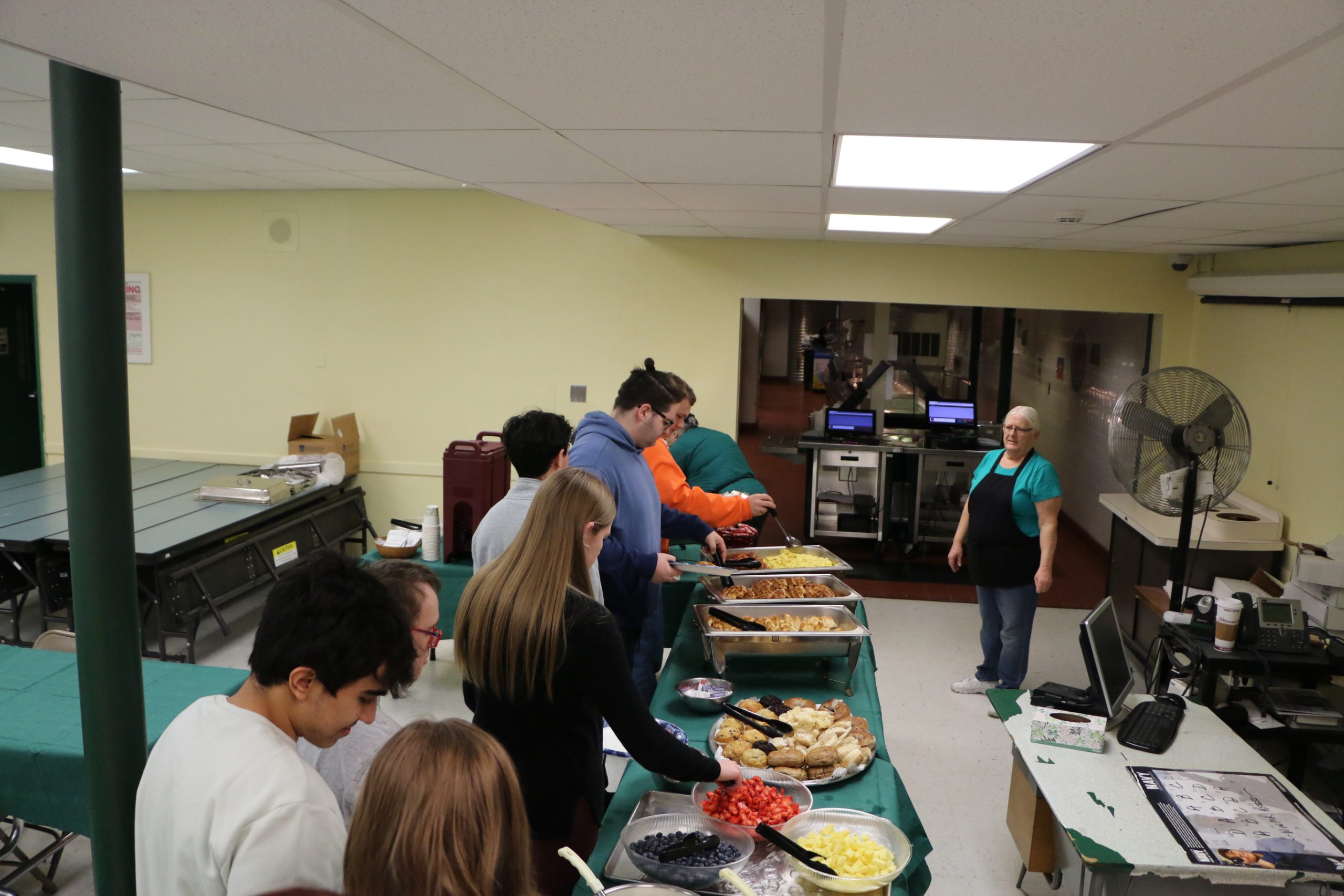 Our Youngest Celebrate 100th Day of School
The Kindergarten Center students celebrated their 100th day of school today, Feb. 10, and thanks to our wonderful parents, the costumes of 100 year old's were everywhere. Activities included counting all the way to 100 in celebration of this marquee day for our KC students.
The Answer was YES, YES, YES: Formal Wear Giveaway Was a Success

The Say Yes to the Dress event was a success beyond expectations! Held Thursday afternoon in the high school auditorium lobby, teams of HFHS juniors and seniors took advantage of the amazing opportunity to secure formal attire. The event was also open to students from Fort Ann and Fort Edward. Next stop Prom.
Mark Your Calendars
Fri., Feb. 10: SnowFlake Shake 6:00 p.m. – 8:00 p.m in the middle school gym. Semi-formal attire; 7th and 8th grades only. Tickets are $10 each and includes pizza, drinks, prizes, and more. This event is presented by Team Oswego. 
Sat., Feb. 11: PTSA Sweetheart Dance, 5:00 p.m. – 7:00 p.m. at the Primary School. This event is for primary students only and each child must be accompanied by an adult. Admission at the door: $15 child/adult and $5 for each additional child. Strawberry shortcake, crafts, music, and photo op included. 
Sat., Feb. 11 and Sun., Feb. 12: Foothills Council Boys and Girls Basketball Showcase at the Washington Ave Armory. Girls will face Johnstown on Saturday at 11:15 a.m., and the boys will face Amsterdam on Sunday at 2:45:p.m. Tickets are $5 general admission and $10 courtside.  
Wed., Feb. 15 and Thur., Feb. 16: In-person Hudson Falls Youth Baseball Registration 2023 will be held 6:00 p.m. to 8:00 p.m. at the Hudson Falls Intermediate School Cafeteria. All players must be between the ages of 4-12 on or before April 30, 2023 (please note change from prior years).There will be sign ups for "Buddy Ball" as well, Buddy Ball is the former challenger division and is open to people with disabilities between the ages of 4-21 (if still enrolled in a school program). 
Mon., Feb. 20 – Fri., Feb. 24: Mid-Winter Recess. Among many of the local options to keep your student productive and having fun are the events already scheduled at the Hudson Falls Free Library – check out the calendar!
Have a great weekend, Tigers!
Dan Ward, Superintendent