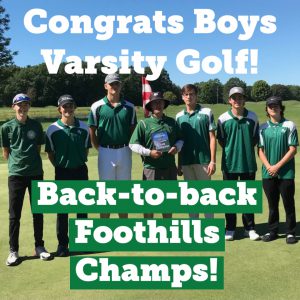 A group of Tigers hoisted another foothills banner this week!  The varsity golf team took home the Foothills Golf tournament victory Thursday, September 16th at Kingsbury National.
The Tigers were led by Junior Noah Tyler who shot an 81. Senior Ben Swartz and Junior Dom Doyle were close behind with an 82.  Juniors  Peyton Smith, Connor Rogers, and Connor Traver all played a great round as well!
Congratulations to the entire varsity golf team on a great win!