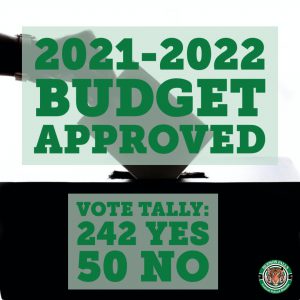 On Tuesday, May 18, Hudson Falls residents approved the district's $46.3 million budget for 2021-22 by a vote of 242 to 50. The results show 82.8% of voters supported the budget.
The approved budget has a 0% tax increase on our community members, but an increase of spending to create a bridge of programs and services for students. Specific initiatives include support programs for reading, special education, social-emotional learning, and closing gaps in student achievement.
"I'd like to thank the community for supporting the district's budget," said Interim Superintendent Dr. Jon Hunter. "This budget will enable the district to reconnect, re-energize and meet students' learning needs.  It also builds on our past successes and establishes the bridge for an exciting new vision for new Superintendent Dan Ward and the Board of Education."    
By a vote of 240 to 51, voters passed a $370,000 proposition to purchase two 65-passenger school buses and one 66-passenger school bus.
Voters also re-elected Jeffrey Gaulin to continue his service on the Board of Education with a five-year term.