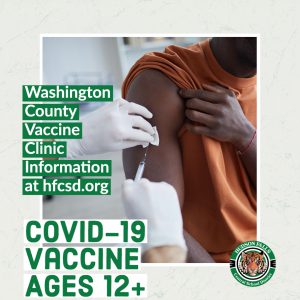 Hudson Falls Central School District is partnering with Washington County's Department of Public Health to hold a vaccine clinic on campus this December. We will have dates and times for the clinic as we get closer to the date.
Right now, the health department is holding several COVID-19 vaccine clinics this month at other Washington County schools. Please click here for a complete listing of events in our area, as well as links to sign up.
The Health Department is offering the Johnson & Johnson vaccine to Washington County adults aged 18 and older, and the first dose of the Pfizer vaccine to adults aged 12 and older.
VACCINATION EVENT: GREENWICH CENTRAL SCHOOL, THURSDAY 9/2
Pfizer Vaccine (Ages 12+) 1st Dose
J&J Vaccine (Ages 18+) 1st Dose / Single-Dose
Walk-ins accepted based on the availability of the vaccine
VACCINATION EVENT: CAMBRIDGE CENTRAL SCHOOL, THURSDAY 9/9
Pfizer Vaccine (Ages 12+) 1st Dose – Register by phone at (518)746-2400
Pfizer Vaccine (Ages 12+) 2nd Dose – Registration info will be sent via email from PH
J&J Vaccine (Ages 18+) 1st Dose / Single-Dose – Register by phone at (518)746-2400
Walk-ins accepted based on the availability of the vaccine
VACCINATION EVENT: HARTFORD CENTRAL SCHOOL, THURSDAY 9/16
Pfizer Vaccine (Ages 12+) 1st Dose
J&J Vaccine (Ages 18+) 1st Dose / Single-Dose
Walk-ins accepted based on the availability of the vaccine
VACCINATION EVENT: GREENWICH CENTRAL SCHOOL, THURSDAY 9/23
Pfizer Vaccine (Ages 12+) 1st Dose – Register by phone at (518)746-2400
Pfizer Vaccine (Ages 12+) 2nd Dose – Registration info will be sent via email from PH
J&J Vaccine (Ages 18+) 1st Dose / Single-Dose – Register by phone at (518)746-2400
Walk-ins accepted based on the availability of the vaccine
VACCINATION EVENT: WHITEHALL CENTRAL SCHOOL, THURSDAY 9/30
Pfizer Vaccine (Ages 12+) 1st Dose 
J&J Vaccine (Ages 18+) 1st Dose / Single-Dose 
Walk-ins accepted based on the availability of the vaccine
Those who wish to receive the COVID-19 vaccine at one of the clinics should:
Bring Identification
Wear a short-sleeve shirt
Plan to stay for at least 15 minutes following vaccination for monitoring