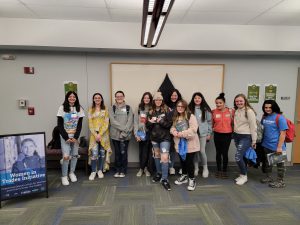 Hudson Falls Middle School students attended SUNY Adirondack on March 15th as a way to gain hands-on experience within the Women in Trades initiative through WSWHE BOCES. 
Through the Women in Trades initiative, WSWHE BOCES hopes to change perceptions by working together with education, business, and community leaders to inspire more young women to get into the trades and to think more about non-traditional career paths. They and we believe,  "trades need to be just as accessible to women as to men. Women have to see it in order to know they can be it." 
Our students were so excited to learn more about the opportunities and careers right in our own region. #EmpowerYourFuture!