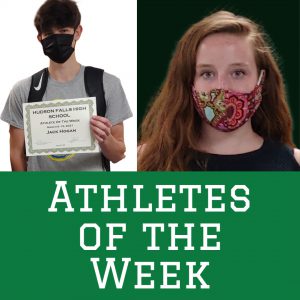 This week we round out our winter season athletes of the week with a final pair from the varsity basketball teams. 
First, we shine our spotlight on junior Ashlyn Hutchinson. In a week that featured both Greenwich and Cambridge, her coach said Ashlyn played with tenacity and aggressiveness on defense which disrupted the opposition's half-court offense. In addition, she was able to get out in transition that led to some scoring opportunities for the team.
Next, Senior Jack Hogan scored in double figures in three tough games during this week. He put up 11 points against Green Tech, 13 against Granville, and 13 against Bishop Maginn. He helped lead the team to a 2-1 record over that stretch, and according to his coach, Jack had several highlight quality dunks.