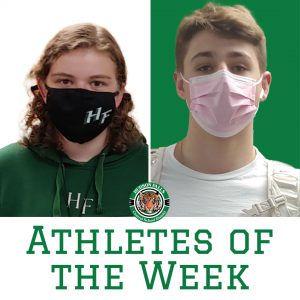 This week we go back to the varsity hoop squads for our athletes of the week!
First up is sophomore Peyton Smith. His coach says in two big wins over Hoosick Falls Peyton absolutely dominated. And here are the stats to back it up.
In the first game, he put up 20 points, 17 rebounds, 6 assists, and 1 Block. In the second, he notched 15 points, 16 rebounds, 7 assists, and 3 blocks. Not a bad two-game stretch!
Not to be outdone, Senior Mikayla Varney led the Tigers with a game-high 20 points in a thrilling overtime win over the same Hoosick Falls squad. Mikayla made 6 of 11 shots from the field. She also showed some mental toughness and went 6 of 6 from the foul line. She also grabbed nine rebounds.
Great job Peyton and Mikayla!