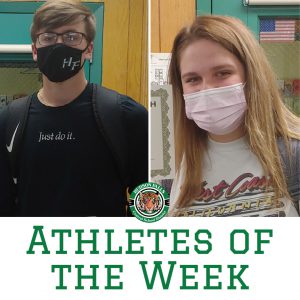 This week we honor two athletes from the boys and girls basketball teams for their contributions on the court.
First up is freshman Lily Lanphear. According to her coach, In her varsity debut, Lilly led the Tigers in scoring with eleven points, grabbed nine rebounds, and had seven steals in a home victory over Scotia-Glenville. 
Next up is Benjamin Swartz. The junior had 19 points, including three 3-pointers in a game against Scotia-Glenville, and then beat that total two nights later, against the same Scotia-Glenville squad, putting up a monster 24 points, including six from beyond the arc. 
Congrats Lily and Ben!