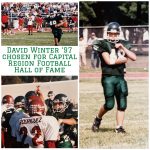 A decorated Hudson Falls running back has been selected for high honors in the capital region. Class of 1997 graduate David Winter has been chosen for the 2021 Capital Region Football Hall of Fame.
According to their website, The Hall of Fame was established in 2010 with the mission of honoring the great players, coaches, and those who have promoted football in the area. Since its debut, the Hall has welcomed more than 260 Section 2 greats, many of whom have gone onto college and professional careers.
Winter had a great career at Hudson Falls High School. He racked up over 3,000 yards rushing for the tigers. He was also a 1996 Glens Falls Post Star player of the year and a State Class B first-team all-star.
Winter will join the sixteen players, six coaches, two officials, a long-time media member, and the 1972 Shenendehowa Plainsmen championship team for the Class of 2021 induction ceremony in November in Colonie.