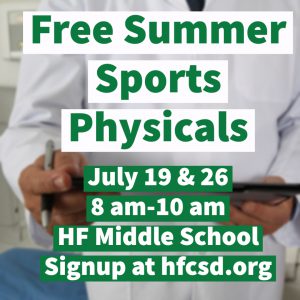 If your child needs a physical to participate in fall sports, Hudson Falls School District can connect you with a doctor for a free appointment.
The physicals will be held at Hudson Falls Middle School on July 19 & 26 from 8 am-10 am.
Please select a date and time at our Signup.com page if you would like your child to receive their FREE sports physical. Remember, your child MUST bring a completed, signed copy of their update form with them to the physical.