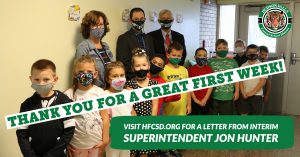 Dear Hudson Falls Parents and Community,
We have completed a very good first week of school.  Faculty and staff have worked hard to connect with all of our students and we have started our work of teaching and learning.  
This could not have happened without an exceptional effort from principals, teachers, the teachers association, maintenance, custodial and kitchen staff, and our transportation drivers.  Our nurses have overseen safety, the tech department has made virtual learning a reality and our clerical staff has kept the work organized.  And, thank you for using the Good2BeBack screening app.  Keep up the reporting.  You are also making our schools safe.  In our first days back, Hudson Falls School District has met and exceeded the challenge of COVID.
In October I will reach out to you for your specific ideas about the progress of our work.  To get your input, we are planning to open 3 different Thought Exchange dialogs in the months of October and November.  This is important information and will help us meet student needs.
Also, as much as things are different, some things are the same.  Whether your student is working in a hybrid plan with both in-person and remote instruction or is part of the Virtual Academy, the Code of Conduct applies to all students.  The Code of Conduct defines student, parent, community, and educational rights and responsibilities.  You can reference the Code of Conduct on our website.  However, there are 3 elements that I wish to highlight.
Bullying is an unaccepted behavior at our schools and in the cyber world.  If you see or hear bullying please report it.
Technology must be used for learning.  The use of computer technology for illegal activities and damage to equipment or infrastructure will NOT be tolerated.  Finally, it is not permitted to tape-record or copy to other social media platforms video or pictures of students, teachers or teacher presentations.
Attendance will be taken every day that school is in session. We want to teach our students each and every day.    
I am looking forward to every week being a successful week of teaching and learning whether in-person hybrid, remote, or Virtual Academy.    
Sincerely,
Jon Hunter
Interim Superintendent