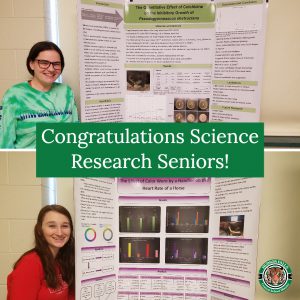 Four seniors competed this past weekend (3/21/20) at the Greater Capital Region Science and Engineering Fair (GCRSEF) held at Rensselaer Polytechnic Institute (RPI). The GCRSEF is a STEM competition that highlights unique research projects of high school students. The fair is an affiliate of the Intel International Science and Engineering Fair (ISEF) and the STANYS Science Congress. This competition had over 200 student applicants from over 15 counties. Our seniors, Eliza Hogan, Mikayla Washburn, Danielle Hogan, and Olivia Lewis were selected to present their work as posters. However, because of these unprecedented times, they had to do their presentations as phone interviews with panels of judges throughout the day.
Olivia, Eliza, Mikayla, and Danielle did an outstanding job and represented Hudson Falls well. Eliza Hogan received 3rd Honorable Mention, which is the top 6 of all projects. By receiving honorable mention, Eliza has been chosen to attend the STANYS Science Congress on June 13 at Milton J. Rubenstein Museum of Science and Technology (MOST) in Syracuse, NY  to present her work. Only outstanding student projects from across the state are invited to present at this event. Also, Mikayla Washburn won the USAID From the American People Award.
Below are the titles of their work.
Eliza Hogan – "The Quantitative Effect of Colchicine on the Inhibitory Growth of Pseudogymnoascus destructans"
Danielle Hogan – "Using Lichen to test air quality and metal content around a wood boiler epicenter in Hudson Falls, NY"
Mikayla Washburn – "The Effect of Color Worn by a Handler on the Heart Rate of a Horse"
Olivia Lewis – "Mortality Rates of Aquatic Macroinvertebrate Populations when Exposed to Conventional and Organic Road Salts"
To read further about the course and their research, as well as the research of the Juniors and Sophomores, please visit the Science Research Website.