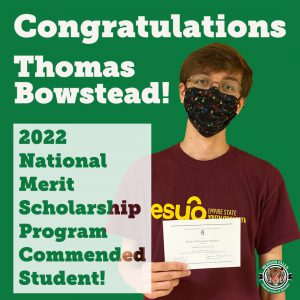 Hudson Falls High School Senior Thomas Bowstead has been named a Commended Student in the 2022 National Merit Scholarship Program. About 34,000 Commended Students throughout the nation are being recognized each year for their exceptional academic promise.
According to the National Merit Scholarship program, those being named Commended Students have demonstrated outstanding potential for academic success. They also represent a valuable national resource; recognizing their accomplishments, as well as the key role their schools play in their academic development, is vital to the advancement of educational excellence in our nation.
Congratulations Thomas!