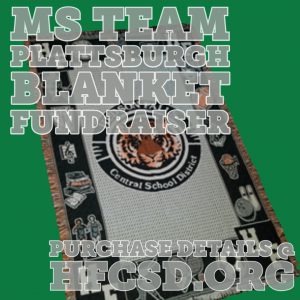 Falling temperatures are a great time to check out the Middle School Team Plattsburgh's Blanket Fundraiser!!
The sale is running from October 24-November 5, 2021. The blankets are woven with the Hudson Falls Tiger logo, as well as other designs. It measures 48 inches by 68 inches and costs $45.00 each. The money is payable on delivery.  Please make checks payable to HFMS Team Plattsburgh.
All the money raised will go toward team Plattsburgh activities and field trips.
Anyone interested in purchasing a blanket may email Tom Sliva at tsliva@hfcsd.org.