Riley Maddison, a Hudson Falls senior and five-year varsity basketball player scored his 1,000th career point at the Feb. 4 home game against Scotia-Glenville.
"It was a wonderful accomplishment for Riley that was made even better because it came with a team win!" said Varsity Basketball Coach Gregory Smith.
The Varsity Tigers are currently 10-6 this season and peaking at the right time of year to make a postseason run.
"Riley is an outstanding athlete all around – on and off the court, as well as on the field as member of our football and baseball teams," said Smith.
To become a 1,000-point scorer,  a player needs to have a consistency to their game, and either be a very good player from a young age or be a volume scorer. Riley is both, according to Smith. Riley is currently averaging 12.5 points per game this season.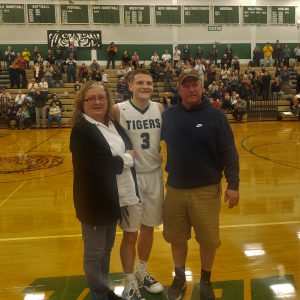 Riley is described as having a quiet confidence and positive attitude. "He's a polite and respectful young man who is a pleasure to work with. He has sacrificed individual statistics this season for his team, so it's extra special that he accomplished this milestone at home in front of his family, friends and fans."
"A perfect snapshot of Riley as a person last night was after the game, after all the pictures, balloons and congratulations, a sixth-grade basketball player was nervously waiting to congratulate Riley. Riley shook the young man's hand and gave him a genuine thank you. That sixth-grader ran out of the gym like he had just met an NBA star!"
Congratulations, Riley on your 1,000th point! You are the embodiment of #HFTigerPride!