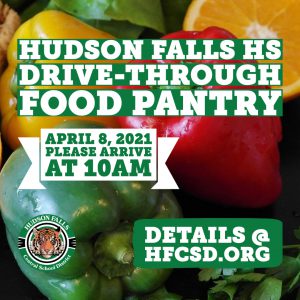 HFCSD employees are coming together with charity partners to hand out fresh fruits, vegetables, and other food items to the Hudson Falls Community. On Thursday, April 8, members of the public can begin lining up at 10 am along the Franklin Street side of the High School building. There is no pre-registration necessary.
Please arrive at 10 am for the event to avoid traffic and crowding.
Anyone arriving by car is asked to remain in their vehicles.
Walkers should leave a six-foot space between them and the next person.
Everyone arriving must wear a mask.
The Hudson Falls food distribution event was the brainchild of the Hudson Falls Teachers Association (HFTA), along with the Hudson Falls Teacher Aides and Assistants Unit and the School-Related Professionals Association Local #10-131.
The Regional Food Bank of Northeastern New York, along with Catholic Charities, will be bringing fresh fruits, vegetables, along with loads of pantry staples for anyone in need.