Hello Tiger Family, 
We started the year with a strong and ambitious goal to have in-person instruction, 100 percent of the time. I am proud to say outside of two days for staffing shortages, we nearly reached this goal. I encourage you to watch my video, thanking all involved in making this year a success. And with the Board of Education's approved change to the original academic calendar, the last day of classes and exams is now Thursday, June 23.
Testing at the secondary school level was in full gear beginning on Wednesday and continues through next Thursday. Good luck to those students taking exams, I am sure you will do well . Please don't forget that school will not be in session, Monday, June 20 in observation of the Juneteenth holiday. 
Beautiful weather accompanied Field Day at both the Primary and Intermediate schools on Wednesday. It was wonderful to see all the students participating, and with many family members in attendance to share in the annual day of fun for our younger students. A special thanks to our PE staff for organizing and making it a premier event for our parents.
This Saturday, June 18 at 11 a.m. marks the grand opening of Moran-Derby Park. We encourage everyone to stop by and check it out. The ribbon cutting kicks off a day of live music, face painting, and even a visit from our very own Tiger mascot. Stick around to cheer on members of The Hudson Falls Girls Softball League 10U teams playing at noon. The Hudson Falls community is thrilled to have this local landmark back in use for all our families. 
I continue to look forward to the 2022 graduation ceremony. We are excited to see many of you on Saturday, June 25 at 10:30 a.m. on the football field. It is with great pleasure that we will honor the class of 2022 for the last time. Please stay alert to our website and social channels in case the need arises to move our ceremony indoors due to the potential for inclement weather. 
Sincerely, 
Dan Ward, Superintendent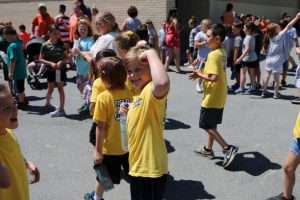 Primary School Field Day.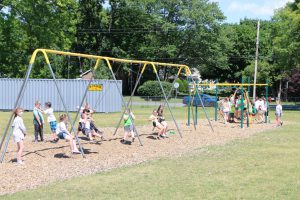 Intermediate students during Field Day intermission.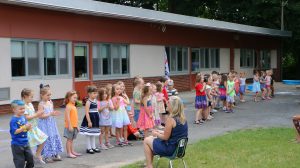 UPK Moving Up Celebration.