We are starting a new project this week. Each week we will highlight one male and one female athlete that has gone above and beyond in performance, leadership, and academics. 
This week we honor Senior Billy Richmond, and Junior Brinley Inglee.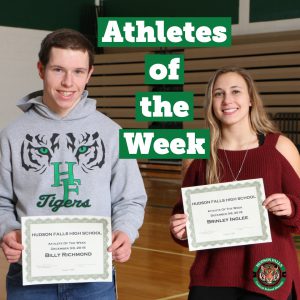 Billy was noticed for his performance in his wrestling match against Scotia-Glenville last week.
"He has never won on the modified, JV, or Varsity level," said wrestling coach Mike Prendergast, who nominated Billy.  "But Billy took advantage of his opportunity he was given and won a barn-burner for not only his first win ever, but in his first varsity match.
Prendergast went on to say Billy is a great leader of the student body, and a member of National Honor Society.
Brinley Inglee was also recognized for her attitude on the court. Brinley is one of two team captains of the girls basketball team.  According to her coach, she's averaged almost 21 points per game at the start of her junior year.
"She constantly demonstrates a passion for the game and maintains her composure in some of the toughest of situations."
"Brinley was selected as one of two team captains by her teammates for her leadership off the court," said Girls Basketball Coach Brianna Dingmon. "And it shows in her game. Her 2018-2019 season high was 29 points against Schuylerville last week. Way to go Brin!"
Congratulations to both Billy and Brinley for their selection as our Athletes of the Week!