Congratulations to Vinnie Canale-Rouse, Jillian Prakelt, and Caroline Martindale for being selected to participate in the All State Mixed Chorus in Rochester, NY. Each of the students received a perfect score of 100% on their vocal solos.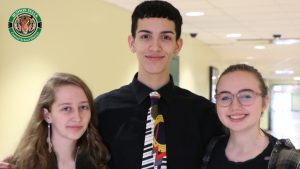 The all state process begins with the students preparing and performing a designated NYSSMA Level VI solo, which must be selected from repertoire lists in the current manual.
Last spring, over 6,500 sophomores and juniors from across the state of New York prepared for All-State evaluations in the hope of being selected. The All-State selection process begins with the solo being evaluated by a NYSSMA Certified All-State adjudicator in the spring. At the conclusion of the festival, the All-State adjudicators create a rank ordered proficiency list of all students being recommended.
This year over 2400 students received scores of 98 or higher and were recommended for All-State consideration. Of those students, less than 300 were chosen to participate in the mixed chorus from across the state.