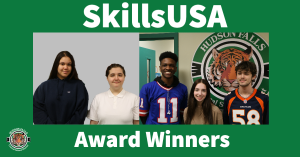 Mar 29, 2022 – Schenectady, N.Y. — In the first regional competition in nearly two years, a group of Hudson Falls High School students attended the SkillsUSA regional competition at Schenectady Community College (SCC).  On March 16, as part of the WSWHE BOCES team, students represented our district to resounding success.
SkillsUSA is a student-led and run organization that partners students, teachers, and industry to empower its members to become world-class workers, leaders, and responsible American citizens. The SkillsUSA championships are career competition events showcasing the best career and technical education students in the nation. Contests begin locally and continue through the state and national levels. The philosophy of the Championships is to reward students for excellence, to involve industry in directly evaluating student performance and to keep training relevant to employers' needs. 
Senior Kamari Edmondson garnered 1st place honors in the Restaurant Service category, with Dylan Nash also grabbing 1st place in Auto Vehicle Maintenance. Devon Ringer and Kara LaFreniere placed as runner's up in their respective skills of Carpentry and Photography.
Other place finishers include: Karah Fountaine who placed 3rd in First Aid/CPR, Connor Bogardus taking 3rd in Related Technical Math, Beloved Thomas placed 4th in Crime Scene Investigation, and Garrett Bell placed 5th in Automotive Service Technology. Special recognition goes out to Ellie Brown, who competed in the Technical Math category, and Sarah Ann Burdick who participated in the Event Security category at this year's competition. 
Superintendent Dan Ward remarked, "HFCSD takes great pride in our community partnerships with WSWHE BOCES and SkillUSA. We are grateful for the opportunities that are provided to our students and we are proud of each and every one of the participants! Congratulations to Kamari, Devon, Kara, Karah, Beloved, Garett, Ellie, and Sarah Ann! Thank you for making us "Tiger Proud" with your accomplishments in these programs."