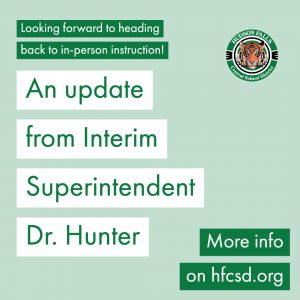 Dear families,
First of all, thank you once again for your cooperation during our in-person learning pause. It was a seamless transition with few interruptions to instruction. We are looking forward to welcoming back students in grades 1 through 12 to our buildings on Thursday, Oct. 8.  We acknowledge that it's only one day back in-person before "Flex Friday" learning and the Columbus Day holiday weekend, but we feel that every day of in-person learning is invaluable for our students and their families. 
Our Kindergarten Center will be doing a second "pause" and remain closed until Thursday, October 15.  This closure will allow for mandatory and precautionary quarantines to expire to a significant number of faculty and staff. Kindergarten Center classes will resume in-person on Thursday, Oct. 15.  You will soon receive more information about the distribution of additional learning packets.  
Having an accurate picture of the health of our school community is crucial. Before students and staff members arrive at school each day, please be sure to complete a quick health screening via our smartphone app Good2BeBack. Please continue to use this or sign up to use this quick health screening. We have a video tutorial, as well as more information about signing up and using the app. Of course, students and staff will also be temperature screened upon arrival at their buildings. 
As always, we would like to remind families that we have added some new protocols to help prevent the spread of the COVID-19 virus. We have details on each of these policies on our website, hfcsd.org.
Thank you for your continued support. You all are what makes us #HFTigerStrong!
Sincerely,
Dr. Jon Hunter, Hudson Falls CSD Interim Superintendent